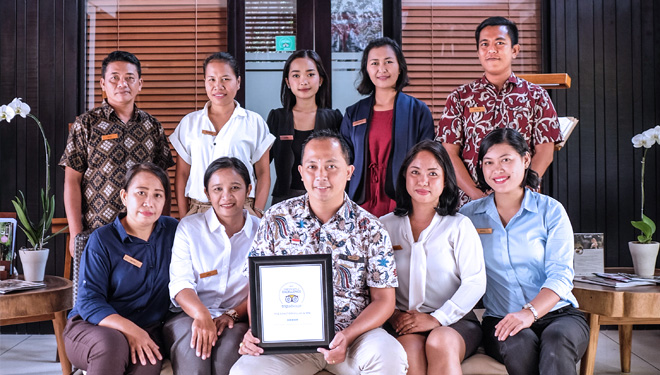 TIMESBANYUWANGI, DENPASAR – TripAdvisor gives The Sanctoo Villas and Spa Bali a Certificate of Excellence Tripadvisor 2019. This award was given for so many positive reviews that given by their customers who spent their night at this place.
The Certificate of Excellence is given to honor hospitality businesses that deliver consistently great service across the world. This designation is presented to approximately 10% of total businesses on TripAdvisor that have consistently achieved great reviews over the past year.
"This is such an honor for us of getting this award from TripAdvisor. And we thank you to all of our customers who had given such a wonderful comments and reviews about our place," Resort Manager The Sanctoo Villas and Spa, Putra Subali said.
There are several qualifications that need to be fulfilled by certain place or attraction to be able to get this award such as maintaining an overall TripAdvisor rating of at least four out of five, having a minimum number of reviews, and it should have been listed on TripAdvisor for at least 12 months.
The Sanctoo Villas and Spa Bali which is listed in TripAdvisor is a boutique resort with 12 villas. It has a fancy bedroom with a pool on every villa. The customers will be able to visit the Bali Zoo (which is located next to the villas) for free once they sign in to this resort. For further information you could email them at reservation@thesanctoovilla.com, or call them on (+62361) 4711222 or visit their official website on www.thesanctoovilla.com. (*)
Baca Berita Peristiwa dan Politik terbaru di Indonesia dan luar negeri lainnya hanya di TIMES Indonesia.