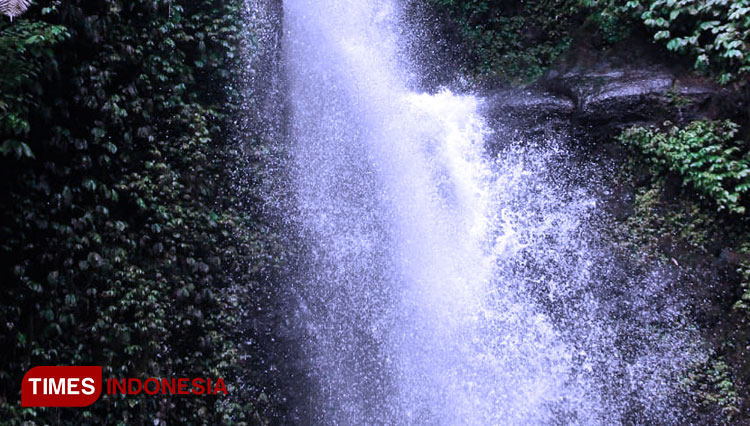 TIMESBANYUWANGI, MALANG – Not everyone likes a vacation in a crowded place. For those who prefer a vacation in a quiet and calming place, it is very recommended to visit Cobak Siok Waterfall in Taji Village, Jabung, Malang.
In Coban Siok, you can enjoy the freshness of the atmosphere and the natural landscapes. "Not many people know about Coban Siok Waterfall," said Sutiaryo, one of the watchmen.
Unlike the most waterfall which usually deep and wavy, Coban Siok is very calm, quiet, and not too deep, thus provides a comfortable atmosphere.
The visitors here are very few because most people will prefer to visit Coban Jahe, directly below Coban Siok. The same but shorter route makes most people choose Coban Jahe over Coban Siok.
"Most people choose to go to Coban Jahe because of its shorter route and easier access," said Sutiaryo.
To get to Coban Siok Waterfall, it takes approximately 1 hour from the center of Malang with sharp winding roads and full of ups and downs. But recently the road had been fixed thus it is safer for all types of vehicles. The road is also wide enough for cars to pass.
"It is always quiet and calm here. Most of the visitors are families or children who want to swim or play around, but only a few. Not many people know the way to reach this place, so it is still quiet and calm now," said another watchman, Gunarso.
If you are interested to visit this hidden heavenly place in Malang, prepare enough food and fuel because Coban Siok is far from any settlement or shop. Don't forget to keep this place clean and in good shape, do not litter!
Baca Berita Peristiwa dan Politik terbaru di Indonesia dan luar negeri lainnya hanya di TIMES Indonesia.