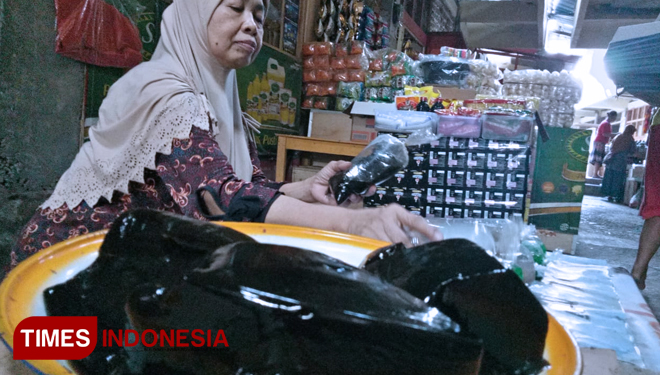 TIMESBANYUWANGI, MAGETAN – As previous year, grass jelly or what as the local citizen of Magetan called Janggelan always be a popular desert during Ramadhan. Magetan as the biggest city which produce grass jelly also feel the impact.
Grass jelly is usually made of particular leaf of a family of a mint. It has a mild, slightly bitter taste. It is served chilled, with other toppings such as fruit, or in bubble tea or other drinks.
"I usually sell around less than 10 kg in a day before Ramadhan, Nd now, I could sell around 10 kg or more in a day," Lilik Uncaramin, a grass jelly producer said.
Grass jelly has become a must to served desert for Magetan citizens on the break fasting time. The community believe that grass jelly has several benefits for their body.
You could get the special Magetan Grass Jelly or Janggelan for IDR 25 K for a big full bucket of grass jelly. However if you need the smaller pack you could get it for IDR 2 K per pack or bigger packaging with IDR 5 K per kg. (*)
Baca Berita Peristiwa dan Politik terbaru di Indonesia dan luar negeri lainnya hanya di TIMES Indonesia.