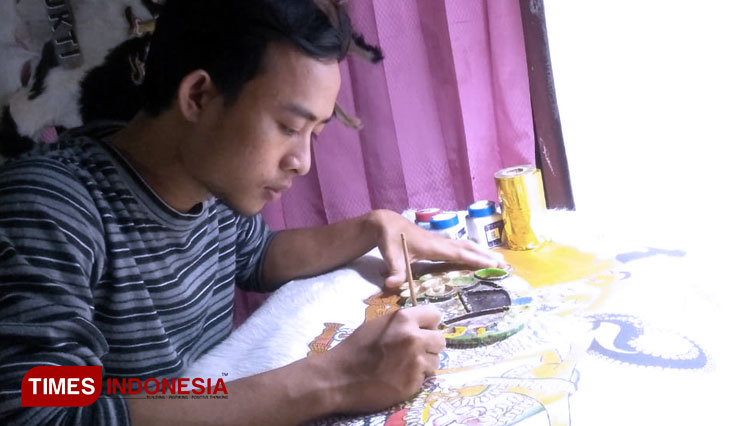 TIMESBANYUWANGI, PONOROGO – Hidden in the middle of a neighborhood in Nglumpang, Mlarak, Ponorogo, there is a community who keep preserving the local culture of making leather puppet for the puppet show. One of them is Syarifudin.
The guy took some of the local youth to keep creating leather puppet to preserve the culture. With his talent and skill he creates and assembled every inch of the puppet and make the leather look spectacular.
He started his career in 2017. Some people asked him to decorate their venue with wayang painting. "There then I started to make it my real passion and business," Syarifudin said.
He couldn't directly work his painting on the leather at first. But after several trial and error he managed to draw a beautiful puppet character on the leather.
"My father is a butcher and people asked him a lot to clean the goat, and I asked them to keep the skin and dried it," he added.
In addition, the guy tried to paint on a leather through some tutorial in YouTube. He also joined a group on Facebook callef Seni Sungging Wayang to enhance his skill.
For a set of leather puppet, Syarifudin of Ponorogo will need around a week to finish it. He will charge around IDR 750 K to IDR 2000 K for his work of art. (*)
Baca Berita Peristiwa dan Politik terbaru di Indonesia dan luar negeri lainnya hanya di TIMES Indonesia.