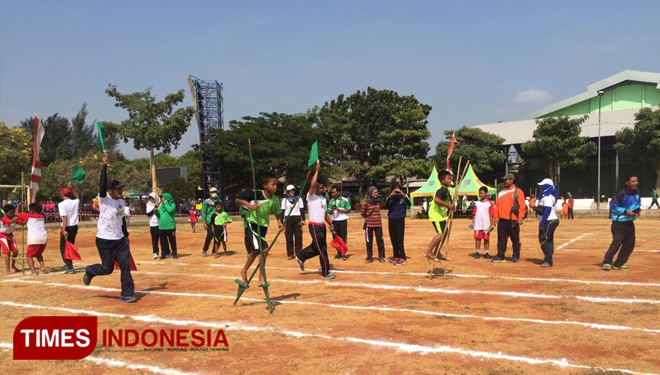 TIMESBANYUWANGI, TUBAN – The local government of Tuban trying to bring back the traditional games and activities through the Olahraga Tradisional (Ortrad) a.k.a the traditional games competition. This event is held for 3 days in GOR Ranggajaya Anoraga Tuban.
The event which is held on Tuesday October 8-10 2019 was intended to to preserve the existence of traditional games also to introduce it to the next generation, the elementary students in this case.
This event is participated by hundreds of elementary student from the local area. There are four main games competed on this occasion, the Gobak sodor (go back to the door), egrang (stilt), dagongan (push and win), and terompah panjang (the slippers for four or more).
"We need to make them love these traditional games. That's the only way we could make it stays in our society," the chief manager of the event Kabid Olahraga Disparbudpora Tuban, Zainal Magtuhien said.
Still according to him, he also hope that by introducing the traditional games through the Olahraga Tradisional (Ortrad) or traditional games competition of Tuban, it could take away the kids' attention from the digital game. It's also hope to give the kids more activities rather than just staying busy with their gadget. (*)
Baca Berita Peristiwa dan Politik terbaru di Indonesia dan luar negeri lainnya hanya di TIMES Indonesia.