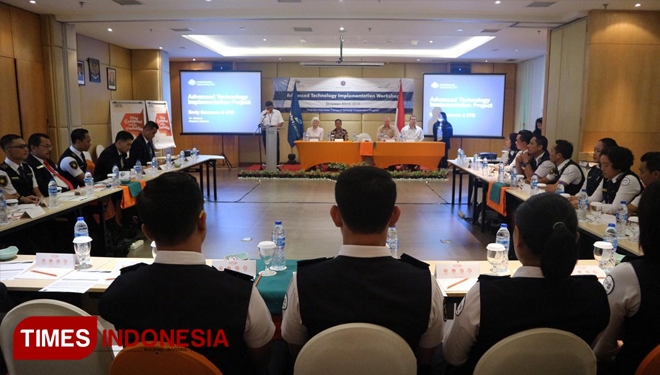 TIMESBANYUWANGI, DENPASAR – PT Angkasa Pura I (Persero) I Gusti Ngurah Rai Airport, cooperated with Australian embassy for Indoneisa held Explosive Trace Detection (ETD) training and Advanced Technology Implementation for aviation security personnel. This aimed to bring the airport security to the next level.
"We would love to have a skilled, agile, and have a deep understanding on various types of threats from inside and outside the airport," I Made Sudiarta, Airport Security Department Head PT Angkasa Pura I (Persero) said.
The training itself will be held at Hotel Harris Tuban, Badung, Bali, starting from March 27, 2019 and will be attended by 44 personnel, 30 personnel from the I Gusti Ngurah Rai Airport, and the rest of them came from 7 other airports Region IV of PT Angkasa Pura I (Persero).
Early detection on explosive matters and advanced technology implementation towards the aviation security will be the main material delivered on the training. This was aimed to increase the service quality of the airport, as well as the security.
Meanwhile Adam Morton, First Secretary Transport of Australian Embassy said that they will emphasized the training especially on the body scanner and ETD Machine, where this machines has been implemented on several airports in Australia like Newcastle airport and Melbourne international airport.
Furthermore the ETD machine had been proven well at the Yuma international airport USA. It managed to detect an explosive material for C4 which was hidden in a tobacco can on 2011.
"Beside the high technology usage, a good quality of human resource is also needed to balance the system," Adam Morton said at the I Gusti Ngurah Rai airport. (*)
Baca Berita Peristiwa dan Politik terbaru di Indonesia dan luar negeri lainnya hanya di TIMES Indonesia.