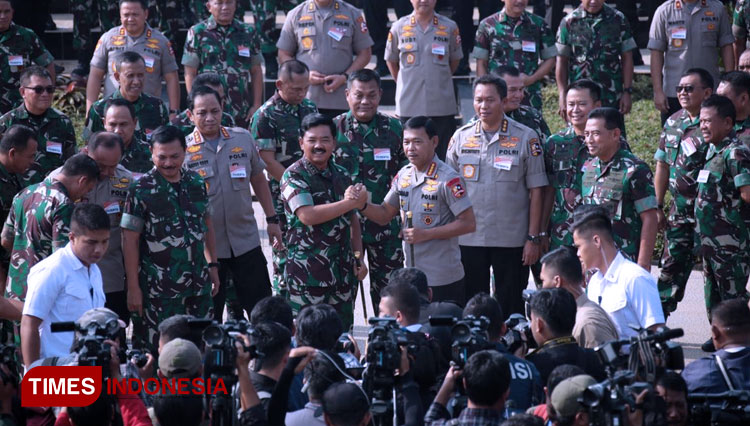 TIMESBANYUWANGI, JAKARTA – The leadership meeting of TNI-Polri was officially opened by TNI Commander in Cilangkap, East Jakarta, on Tuesday (28/1/2020).
The meeting took "Dilandasi Profesionalitas, Soliditas dan Sinergitas, TNI-Polri Siap Mengamankan Pilkada Serentak 2020 Serta Mengawal Pembangunan Nasional Dalam Rangka Menuju Indonesia Maju," (With Professionalism, Solidity and Synergy, TNI-Polri are Ready to Secure the 2020 Simultaneous Elections and National Development to a Developed Indonesia) as their topic.
The meeting was attended by around 359 lieutenant of TNI-Polri. They all solemnly listened to what the Commander said.
"We will have a difficult task to secure the election and the PON XX (Indonesian Sport Championship) in Papua. Also some management disasters on certain area from flood and droughts," The Commander said.
The Commander also said that to be able to face all of the issues all the personnel of TNI-Polri need to stay together and become stronger team time to time.
In addition, the commander also emphasized that all the personnel must to stay neutral and never put their feet on any party during the election.
TNI Commander also give them some reminder to always act in proper, planning, prevent, peaceful, and good performance. (*)
Baca Berita Peristiwa dan Politik terbaru di Indonesia dan luar negeri lainnya hanya di TIMES Indonesia.